Robert Louis Balfour Stevenson
(13 November 1850 – 3 December 1894) was a Scottish novelist, poet, essayist and travel writer. His best-known books include
Treasure Island
,
Kidnapped
, and the
Strange Case of Dr Jekyll and Mr Hyde
.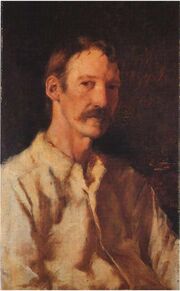 A literary celebrity during his lifetime, Stevenson now ranks among the 30 most translated authors in the world, just below Charles Dickens. He has been greatly admired by many authors, including Jorge Luis Borges, Ernest Hemingway, Rudyard Kipling, Marcel Schwob, Vladimir Nabokov, J. M. Barrie, and G. K. Chesterton, who said of him that he "seemed to pick the right word up on the point of his pen, like a man playing spillikins."
Ad blocker interference detected!
Wikia is a free-to-use site that makes money from advertising. We have a modified experience for viewers using ad blockers

Wikia is not accessible if you've made further modifications. Remove the custom ad blocker rule(s) and the page will load as expected.