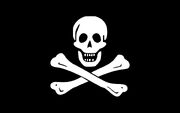 Pirates
can come in many different styles and ways, with acts such as plundering, murdering, stealing, piracy, or breaking a large amount of laws, usually for financial purposes. Some Pirates can be leaders of a "crew" of other people that see that same ways as they do, but may ultimately get betrayed, or "mutinied" by there plunder buddies. Military villains associated with naval warfare.
Since piracy, as it was practiced in classical times, is often romanticized in fiction, many works feature "good" pirates as well as evil ones.
Subcategories
This category has the following 3 subcategories, out of 3 total.
Pages in category "Pirates"
This category contains only the following page.
Ad blocker interference detected!
Wikia is a free-to-use site that makes money from advertising. We have a modified experience for viewers using ad blockers

Wikia is not accessible if you've made further modifications. Remove the custom ad blocker rule(s) and the page will load as expected.